India
Sadhvi Ritubhara Daughter Will Be Married In Vatsalya Village Of Vrindavan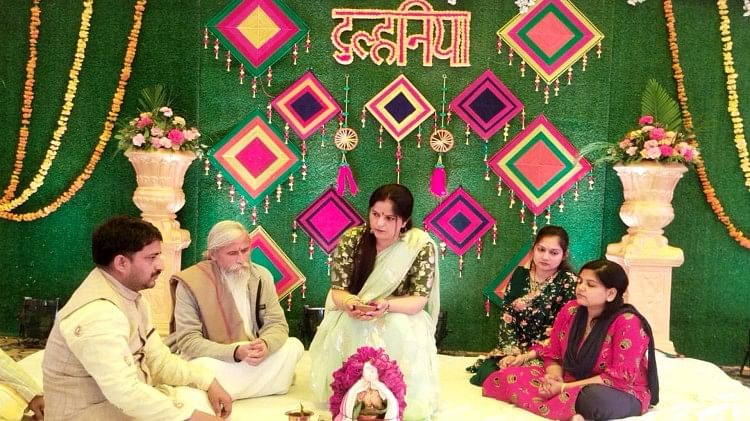 The time has come to make the hands of Richa Parmanand, who was brought up under the umbrella of grandmother, aunt and Yashoda mother Suman Parmanand, yellow under the service project Vatsalya village of Param Shakti Peeth, run by Sadhvi Ritambhara, the presiding officer of Vatsalya village. Richa's marriage is fixed with the engineer.
Umashankar Rahi, media in-charge of Vatsalya village said that there are 22 families in Vatsalya village. In every family, children are being brought up by establishing the relations of maternal grandmother, aunt and mother. Richa Parmanand is the seventh daughter of Suman Parmanand, who is getting married. Earlier one son and six daughters have been married in prestigious families of the society.
Advocate Richa is going to be married to Arpit, son of Rajendra Chauhan of Indore. Arpit is an Engineer in Computer Science and is currently working at a higher position in Siemens Company, Pune. Arpit's mother Anita had taken a vow 20 years ago in Didi Maa's Shrimad Bhagwat Katha being held in Indore that I would marry the son with the daughter of Vatsalya village.
Richa's wedding preparations are in full swing. In keeping with Hindu rituals, the ceremony of Mehndi, Haldi has taken place in the midst of Mangal songs being sung by Nani, Aunt. Mandap and marriage will be completed on 20th February in the courtyard of Vatsalya village with all Hindu rituals and Vedic chants. Invitations have been sent to the dignitaries, scholars, saints, mahants, Mahamandaleshwars, administrative and administrative people in the marriage.